3D Wire Bending Machine (HTC60W)
Description
7 computer controlled servo motors for fast and easy setup.
Suitable for 3D bending parts.
Multi-radii servo winder provides total forming flexibility, making all bending processes fast and efficiently.
Machine designed for making both long and short bending parts.
State of the art touchscreen control for easy operation.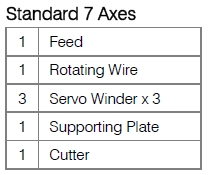 Our Wire Bending Machines:
2D Wire Bending Machine (HTC20WD)
Specification
Model
Wire Dia.
- Steel Wire
Wire Dia.
- Soft Wire
Dimension
(LxWxH)
Weight

Model

HTC60W

Wire Dia. - Steel Wire

3.0mm-6.0mm
(.118" - .236")

Wire Dia. - Soft Wire

3.0mm-8.0mm
(.118" - .315")

Dimension (LxWxH)

355x170x200cm
(140"x67"x79")

Weight

2500KGS
(5500LBS)
* The specifications and features are subject to change without notice.