6 Axes Spring Coiling Machine (HTC28CP)
Description
6 servo motors, industrial computer controlled insures reliable control.
Graphic and easy to use software simplifies programming.
A micro pulse hand wheel is used for easy setup and programming.
Standard spring shapes are pre-programmed in computer CPU for easy setup.
O.D. control is standard feature.
Touchscreen control interface for easy operation.
The Central Slide (i.e. the cutter, pitch slides and mandrel all together) will move to the correct position automatically according to the program while O.D. is changed during production, which provides setup convenience and strengthens cutter structure.
Cam-less operation insures fast and easy setup.
Mandrel in-out movement is programmable which provides setup flexibility.
Rotating cutoff and straight cutoff capability are both standard features for more flexible application.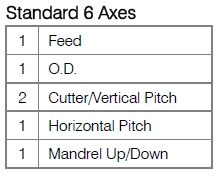 Our Spring Coiling Machines :
12 Axes Spring Coiling Machine (PX series)
8 Axes Spring Coiling Machine (CQ series)
6 Axes Spring Coiling Machine (CP series)
5 Axes Spring Coiling Machine (CL series)
4 Axes Spring Coiling Machine (CF series)
Specification
Model
Wire Dia.
Max. O.D.
Production
Rate
Dimension
(LxWxH)
Weight

Model

HTC28CP

Wire Dia.

0.8mm-3.0mm
(.031" - .118")

Max. O.D.

45mm
(1.77")

Production Rate

MAX. 250 pcs/min

Dimension (LxWxH)

152x100x182cm
(60"x39"x72")

Weight

1100KGS
(2200LBS)
* The specifications and features are subject to change without notice.